Once upon a time, there was a mother duck who was enduringly waiting for her eggs to hatch. Finally, the day came, and little ducklings popped out of their shells, making everyone excited. But there was one duckling that looked different from the rest.
This duckling had gray and misshapen feathers, unlike its cute and fluffy siblings. Because it looked different, the other animals called it the "Ugly Duckling." This made the poor duckling very sad and lonely.
Feeling rejected, the Ugly Duckling decided to leave the farm in search of a place where it would be accepted. It faced many difficulties along the way, especially during the cold winter. It struggled to find food and shelter, barely surviving the harsh conditions.
As spring arrived, something amazing happened. The Ugly Duckling started to change. Its gray feathers began to fall out, revealing beautiful white feathers underneath. It was turning into a graceful swan!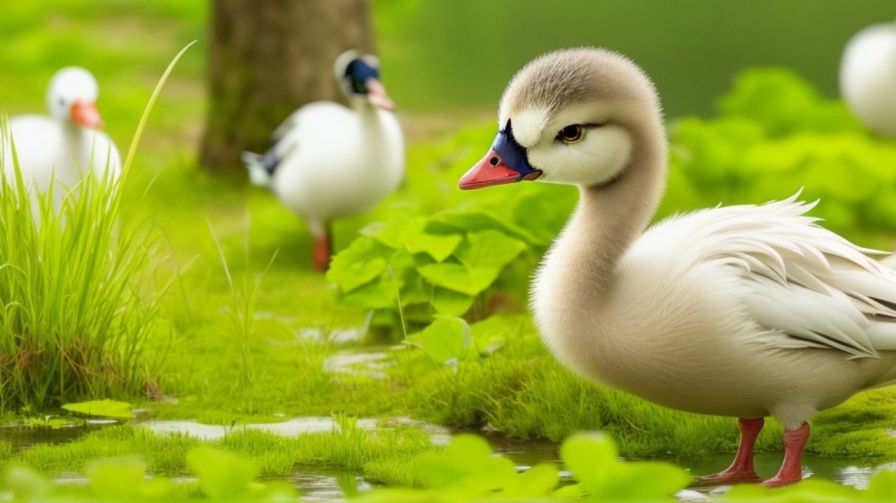 When the Ugly Duckling saw its reflection in the water, it couldn't believe what it saw. It had transformed into a stunning swan! Other swans noticed the newcomer and welcomed it with open wings.
The swan returned to the farm, no longer seeking approval from the animals that had once called it ugly. When the farm animals saw the beautiful swan, they felt sorry for the way they had treated it. They apologized, and the swan forgave them.
The farm animals welcomed and adored the swan for its beauty and elegance from that day forward. The Ugly Duckling had finally found its place in the world and was content with its life.
The parable of the Ugly Duckling reminds us to be nice and welcoming of people regardless of their appearance. It also serves as a reminder that we all have the ability to evolve and, become something beautiful.
The moral of the story of "The Ugly Duckling" is In a world where judgments are quick and superficial, the Ugly Duckling's tale serves as a powerful reminder to look deeper and embrace the unique beauty that resides within each individual.
Synonyms of The Ugly Duckling
| Words | Synonyms |
| --- | --- |
| Enduringly | patiently, interminably. lastingly |
| Ducklings | Baby duck, young duck, duck hatchling. baby duck. duck hatchling. young duck. |
| Barely | hardly, scarcely, just, only just, narrowly, by the skin of one's teeth |
| Evolve | mature, grow, open out, unfold, unroll, expand, enlarge, spread |